The fifth Biber Contest ran from 10 December 2021 to 1 June 2022. A total of 473 stories were entered anonymously. Twenty stories selected for the collection were chosen by the jury made up of:  Lejla Kalamujić, Kalina Maleska and Olja Savičević Ivančević. Four stories received prizes:
First prize:  Doba linjanja [The Age of Shedding] by Ana Kutleša from Zagreb;
Second prize:  Fertik by Lidija Deduš from Varaždin;
Third prize:  Zemlja sreće [Land of Happiness] by Ante Storić from Šibenik and Reči [Words] by Miloš Perišić from Aranđelovac.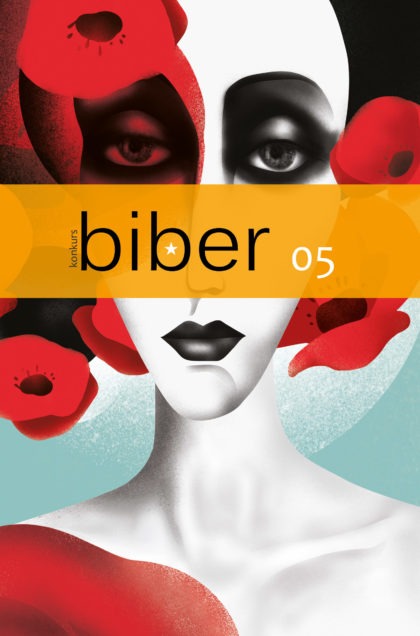 Preuzmi knjigu: PDF, MOBI (BHSC), MOBI (Albanian), MOBI (Macedonian)
(The publication is not available in English.)
The collection also includes the following stories:
Vaške [Lice] by Dušan Radaković from Zrenjanin;
Kada uđem u kuću, ugasim svjetlo [When I Come Home, I Switch off the Light] by Ena Katarina Haler from Zagreb;
Crveni neboder [Red Skyscraper] by Lana Bunjevac from Zagreb;
Vrtlozi [Whirlpools] by Senad Jusić from Bugojno;
Gluvonema [Deaf-mute] by Albina Idrizi from Gnjilane;
Suze isto bole [Tears Hurt All the Same] by Vesna Todorovska from Kumanovo;
Kava, komšinice [Coffee, Neighbour] by Tena Lončarević from Županja;
Graho by Dražana Marković Krezić from Mostar;
Rat je ružna reč [War is an Ugly Word] by Srđan Miljević from Belgrade;
Kava s Jelenom [Coffee with Jelena] by Anica Marcelić from Zaprešić;
Crtice iz života izbjeglice [Notes from the Life of a Refugee] by Ana Jugo from Vienna;
Kolačić sreće [Fortune Cookie] by Naida Mujkić from Doboj;
Zovem se Mama [My Name is Mama] by Sanja Mučkajeva Vidanovska from Bitolj;
Priča cijela, a čovjek… [The Story is Whole, but the Man…] by Goran Janković from Ljubljana;
Pogača [Breaking Bread] by Aida Šečić Nezirević from Sarajevo;
Djevojčica [Little Girl] by Andrea Hribar Livada from Zagreb;
Nešto mračno što mama nosi u sebi [Something Dark Mother Carries Inside] by Slađana Nina Perković from Banja Luka;
Moja baba Anica [My Grandma Anica] by Dubravka Tintor from Viškovo;
Na dnu šoljice [At the Bottom of the Cup] by Amina Kaja from Pristina;
Razmera boga… separat [On Divine Scale… An Article] by Vasilije Perović from Belgrade; and
Zaključci sa sastanka mjesne zajednice na kojem nije bilo suzdržanih [Conclusions from the Local Community Meeting with No Abstentions] by Ernad Osmić from Brčko.
The translators of the stories are  Borislav Pavlovski, Kreshnik Adini, Irena Šentevska, Đoko Zdraveski, Đorđe Božović, Ivan Šopov and Qerim Ondozi.
The cover illustration is by Zoran Cardula.
---