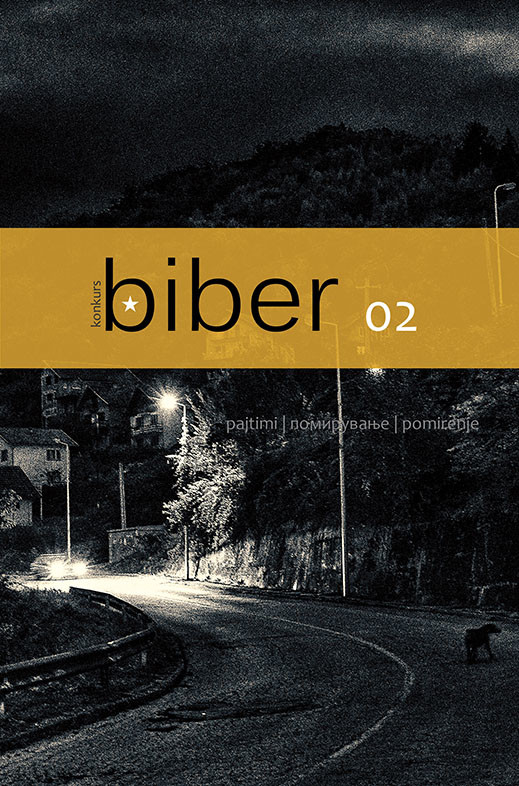 Collection of short stories about reconciliation selected through the second Biber Competition
The second Biber competition was launched in January 2017. We received 385 stories in Albanian, Macedonian, Bosnian, Croatian, Montenegrin and Serbian. The jury was made up of Faruk Šehić, Kim Mehmeti and Tatjana Gromača. First prize went to the story Jedu ljudi i bez nogu [People Without Legs Eat Too] by Milica Vučković from Belgrade, the second prize was awarded to the story Čiko Zav [Mr Zav] by Dženeta Rovčanin from Sarajevo and the third prize to Семејството на чичко Аки [Uncle Aki's Family] by Anuška Minovska from Skopje.
The Biber 02 collection contains 25 selected stories. You can download the pdf version at the following link.
(The publication is not available in English.)
Čiko Zav, Dženeta Rovčanin
Strašne stvari, Dragić Cvjetinović
Семејството на чичко Аки, Анушка Миновска
Dënes një baladë, Mehmet Elezi
Jedu ljudi i bez nogu, Milica Vučković
Plovak, Sanja Radulović
Индигото на бесот, Јована Матевска
Sneg je opet, Snežana, Lejla Kalamujić
Lazar, Adam Pakai
Një e kaluar e frikshme, Verime Zimberi-Beluli
Војна е мал збор, Сања Михајловиќ-Костадиновска
Prozori, Srđan Gagić
O!, Anela Ilijaš
Qeni dhe derri, Afrim Demiri
Ja sam svakog dana sve više nemirna, Andrea Popov Miletić
Ime oca – crtica, Milan Vorkapić
Риба на јадица, Вера Калин
Luftë dhe dashuri, Marjeta Gjoka
Lješnjak, Jasna Radulović
Ех, да беше убав момент…, Благица Ѓорѓиевска
Sitnina, Nemanja Raičević
Стомакот на еден библиотекар, Ана Кнежевиќ
Frakture, Danilo Lučić
Dhoma e pajtimit, Edis Galushi
Djevojčica u narančastoj trenirci, Tanja Javorina
---
With the support of: